2021 Camping Rates
Season opens (typically) April 15th and closes October 31 (water shutoff for season).
Offseason camping is available by reservation only!
A minimum of one night deposit required for all reservations, except for 2 nights deposit for weekly, 2-3 nights deposit for Holidays, and $100 for monthly reservation (which are non-refundable).
10% off Daily rates for Good Sam Club members.
15% discount for groups of 8 RV sites or more (not valid for Holiday weekends)
5% off for Veterans plus additional 5% for Veterans that have served in combat areas and retirees
Cancellation Policy: A minimum $10 cancellation fee applies to all cancellations except Onsite Rental Trailer deposit, which is non-refundable. (Deposits for weekly, Holidays and monthly reservations are also non-refundable)
Cancellations must be made at least 14 days prior to scheduled arrival date and 2:00 pm normal check in time or no refund of remainder of deposit.
The Onsite Rental Trailer $55 deposit is non-refundable.
Check-in time is between 2pm and 9pm. Late arrival check-in may incur a $15 late arrival fee.
Early arrivals are possible if previous camper has left site vacant. (No additional charges)
Note: Our weekly rates are based on pay for 5 days, get two days free.
Our monthly rates are based on pay for 3 weekly rates + 2 days, and get 30 days, (13 total free days),
July, August and October (each having 31 days) will have an additional day added for monthly reservations.
Click here to print 2020 Rate Sheet
Amenities
Electric (50/30/20)
Water
Sewer
Picnic Table
Fire pit
Rates
Daily: $40 (P1, P10 $34)

*P1 and P10 can only accommodate up to 33 ft RV's and are only 25 ft wide

Weekly:$200
Monthly: $680 (30 days only)
Extra Tent: $10/night
(Limit one)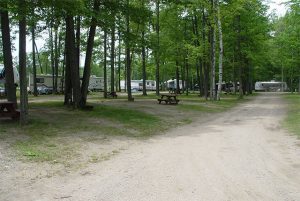 Amenities
Electric (50/30/20)
Water
Sewer
Picnic Table
Fire pit
Rates
Daily: $42 (site 25 $34)

Site 25 can only accommodate up to 35 ft RV's and is only 35 ft wide

Weekly: $210
Monthly: $714 (30 days only)
Extra Tent: $10/night
(Limit one)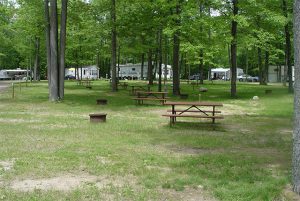 Rates
Daily: $22 (Sites R3 & R4 w/ Elec $25)
Weekly: $110 (jwj/ Elec $125)
Monthly: $340 (w/ Elec $425) (30 days only)
Extra Tent: $10/night
(Limit one)
Amenities
Queen Bed
Single/Double bunk bed
Shower/Toilet
Kitchen/Dining Area
Microwave
Must provide own towels/linens
Rates
Daily: $55 (Minimum 2 nights)
Weekly: $385 (Max. 2 weeks)
Monthly: N/A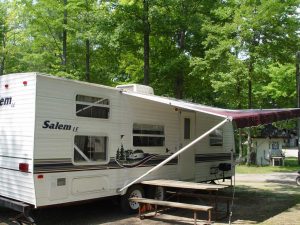 Rates
Daily: N/A
Weekly: $10
Monthly: $40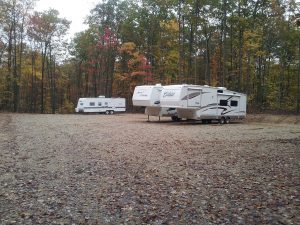 Annual
Camping – May 1st thru Oct 31st
Onsite Storage – Nov 1st thru Apr 30th
Amenities
Electric (50/30/20)
Water
Sewer
Rates
Annual: $1600 + metered electric
Rates
Pavilion Rental: $75 10am – 5pm
Dump Station (non-campers): $10
Holding tank fill up : $10
Showers (non-campers): $5/ea
Laundry (campers only):

$2.00/wash
$1.50/dryer load