2021 Camping Rates
Season opens (typically) April 15th and closes October 31 (water shutoff for season).
A minimum of one night deposit required for RV & Tent reservations, 2 nights deposit for Holidays & rental trailers, 3 nights deposit for weekly, and $200 deposit for monthly reservations (all are non-refundable).
10% off Daily rates for Good Sam Club members.
15% discount for groups of 8 RV sites or more (not valid for Holiday weekends)
5% off for Veterans plus additional 5% for Veterans that have served in combat areas and retirees
Cancellation Policy: A minimum $10 cancellation fee applies to all cancellations except Onsite Rental Trailer deposit, which is non-refundable. (Deposits for weekly, Holidays and monthly reservations are also non-refundable)
Cancellations must be made at least 14 days prior to scheduled arrival date and 2:00 pm normal check in time or no refund of remainder of deposit.
Check-in time is between 2pm and 9pm. Late arrival check-in may incur a $15 late arrival fee.
Early arrivals are possible if previous camper has left site vacant. (No additional charges)
Amenities
Electric (50/30/20)
Water
Sewer
Picnic Table
Fire pit
Rates
Daily: $44
(P1 & P10 – $40)

*P1 and P10 can only accommodate up to 28 ft RV's and are only 25 ft wide

Weekly: P1 & P10 – $280
Weekly pull thru's – $308
Monthly: $750 (30 days)
P1 & P 10 – $700 (30 days)
Extra Tent: $10/night
(Limit one)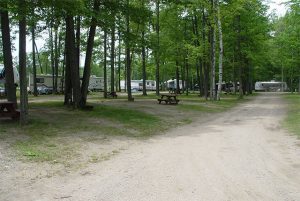 Amenities
Electric (50/30/20)
Water
Sewer
Picnic Table
Fire pit
Rates
Daily: $45
Site 25 – $40

Site 25 can only accommodate up to 35 ft RV's and is only 35 ft wide

Weekly: $315
Site 25 – $280
Monthly: $750 (30 days)
Extra Tent: $10/night
(Limit one)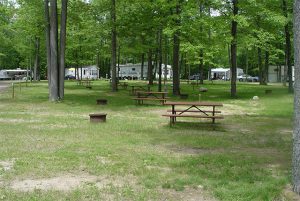 Rates
Daily: – $25
Sites R3 & R4 w/Elect.- $30
Weekly – $175
R3 & R4 w/ Elect. – $210
Monthly: – $450
R3 & R4 w/Elect. – $570 30 days maximum
Extra Tent: $10/night
(Limit two)
two Onsite
Trailer Rentals
Amenities
Queen Bed
Single/Double bunk bed
Shower/Toilet
Kitchen/Dining Area
Microwave
Must provide own
towels & linens
Rates
Daily: – $65 (Min. 2 nights)
Weekly: – $455 (Maximum 2 weeks)
Monthly: N/A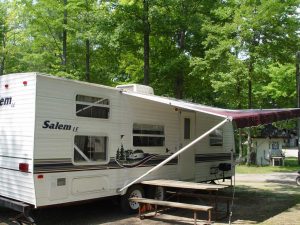 Rates
Daily: – $5
Weekly: – $30
Monthly: – $100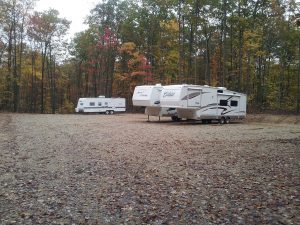 Annual
Camping – May 1st thru Oct 31st
Onsite Storage – Nov 1st thru Apr 30th
Amenities
Electric (50/30/20)
Water
Sewer
Rates
Annual: $1800 + metered electric
Semi-Annual: $1600 + metered electric
Rates
Guests – Jumping Pillow / Playground $7 per person, per day
Pavilion Rental: $100 10am – 5pm
Dump Station (non-campers): $15
Holding tank fill up : $10
Showers (non-campers): $5/ea.
Laundry (campers only):

$2.00/wash
$1.50/dryer load